I hope you'll join us for a wonderful weekend of
Yoga on the lake at Williams Bay.
Click on the photo for more information or send us an e-mail.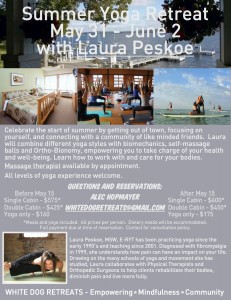 Join us for a wonderful weekend of Yoga 
May 31-June 2
at the Lake in William's Bay, WI!
4 Classes in 3 Days
Yoga, Beautiful Setting & Great Company
I want to go but I have some questions.
(The weekend schedule is below)
Should I go even though…
I haven't practiced in a while (or maybe it's been more than a while)?

 This is a great way to get back to your yoga practice. 4 classes in 3 days will definitely get your yoga juices flowing again! Remember all classes will have yogis of different levels looking to accomplish different goals.  Practice at your own pace.

Wait, I have to have goals?!?

Don't worry – you don't have to do anything but have a great time. Type A's, totally let me know what your goals are and we'll make sure to focus on them!
I have an injury?

 I always focus on alignment so you're in good hands. Plus, I have a new secret weapon – Yoga Tune Up therapy self-massage balls. That's right, I have balls now and they are amazing! You will love them!
I want to bring my significant other but they don't practice yoga.?

William's Bay is beautiful and there will be plenty of non-yoga things to do this weekend. The price for a a person not doing yoga and sharing a room with someone paying for a single is $110 prior to May 15 and 135 after May 15. (I'm trying to convince my sweetie to join us even though I won't let him take a yoga class with me.)
I'm still relatively new to yoga?

 This is a great opportunity to learn alignment and ask questions in a small group. Practice asana through posture all weekend.
And the biggie question – do I have to practice yoga on a paddleboard like in the photo?
Noooo, but you're welcome to join me in heading out on the water in a kayak or on a Stand Up Paddleboard. Of course, you can also just watch and take bets on whether I fall into the water.
I can't make it for the entire weekend. Is that ok?
While we'd love for you to join us for the entire weekend, you may have other commitments. Some yoga is always better than no yoga.  Reserve your space for the classes you can attend!
To reserve your space, e-mail us.

Retreat Schedule
Friday, May 31
Sign In for your room anytime after 4:00 pm
Opening Circle and Evening Yoga Class

Building Foundations and Self-Care
Bistro Cash Bar open for mingling after class
Saturday, June 1
Light Breakfast, Coffee and Tea
Meditative Walk followed by Energetic Yoga

Straight Lines – Creating Length and Space in Standing Poses and in Your Life
Afternoon Yoga

When Lines Go Awry – How to go with the Flow
Sunday, June 2
Light Breakfast, Coffee and Tea
Energetic Yoga and Closing Ceremony

Flying – Letting go of What Keeps you Down and Getting off the Ground