Self-Care for Athletes
Saturday, 9/7 
12:30-2:30
&
Self-Care for Pain Management *
Saturday, 9/28
12:00-2:30
These workshops combine Yoga, Biomechanics,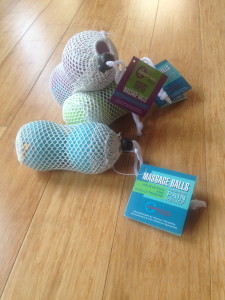 Ortho-Bionomy, and Yoga Tune-Up® therapy balls.
Learn a practical approach to working with your body, instead of against it and take care of YOU!
The techniques taught in this class create balance and flexibility in the body, while relieving painful injuries, improving coordination, and reducing stress. You'll be amazed at how good your body will feel!
Cost: $75, including a set of Yoga Tune Up® massage balls.
To reserve your space, e-mail us. Both workshops are limited in size to ensure individual attention.
What do people have to say about Laura?
Laura at Yoga Tonic is amazing. I come from a competitive Figure skating background (of 10 years) and have been an avid skier all my life. This has led to 4 ACL reconstruction surgeries. Needless to say, I have not been kind to my body. Up until about a year and a half ago I only did yoga as a supplement for my skating and always enjoyed it, but it was never my primary form of exercise. Then 18 months ago, I tore my ACL skiing, so I started doing yoga for the low-impact and stability benefits. Then, after I moved to Chicago last September (2010), I started practicing with Laura knowing full well I was going to have to take on my 4th and 5th surgeries. In January (2011) I found out I was also going to need a bone graft (to amend a prior reconstruction) and Laura graciously took me under her wing to help me prep and recover. Through consistent practice she was able to help me fully recover from that surgery (keep in mind I still didn't have an ACL at this point) and develop my hamstring and quad strength for my actual ACL reconstruction. After 4 months of very dedicated practice with her, I went into my ACL reconstruction feeling very strong and stable. In the first few days of my post-op I could tell my body was handling the trauma quite well, given the experiences of my prior surgeries. I believe this was due to the dedicated practice and tailored approach Laura brings to each yoga class. I am waiting in eager anticipation to get the go-ahead from my doctor to start practicing again, as I know that I will be able to, through working with Laura, regain full functionality of my knee post-acl reconstruction and meniscus repair.       ~ Ashley
After a year in time, two orthopedic docs, and months and months spent at two different physical therapy locations…I was slowly (too slowly) doing "better" from a dislocated knee injury. The result was that the area around my knee was very strong, but also very tight. I couldn't bend it more than 90 degrees. Just when I thought I was stuck like that forever, I met Laura. After countless squats and lunges endured at the encouragement of physical therapists to strengthen the muscles around the kneecap, Laura guided me through the process of stretching that area in a way that was safe and effective. I had full range of motion back after several months in Laura's class and I directly credit that to this yoga practice. Now that I am healed, I have found that yoga continues to be an essential part of my body's recovery process from the hours I spend running and swimming. ~ Sally
I'm of the older age group but you're only as old as you feel. I have been an active person all my life and wish to stay that way. My later years have been invaded by osteoarthritis. At this time, arthritis and scoliosis invade my back, muscles and joints. I've had 2 knee replacements and 1 hip replacement. I'm also a breast cancer survivor.
I had never done Yoga and am now in Laura's functional class. I feel very fortunate that, Lisa, a Physical Therapist recommended Laura. Class began May, 2010. My goals were to be free of back pain, deal with stiffness and walk without a cane.
At this time, I am free of back pain and walk part time without the cane. I hope to walk without the cane in the fall. This stormy weather isn't good for me.
Laura is an excellent teacher, the most patient and warm person. She knows how the body works. Yoga by Laura has made my life easier. You will end up doing things that you never did before. ~ Doris
* Self-Care for Pain Management will include a discussion about foods and their relationship to inflammation.